I recently was able to get my hands on some more exciting FPV products from AKK Technology. This time we are having a closer look at three new FPV transmitters (VTXs) released juts a while ago, including the AKK X2 Ultimate.
The R&D department of AKK Technology* seems to have been crazy busy in the last months, constantly expanding their FPV product portfolio. It is still nice to see how they are coming up with new solutions and form-factors to design a FPV transmitter (commonly known as VTX).
This article will focus on three new products: The new standard-format AKK X2 Ultimate transmitter, the stack-able AKK FX2 Ultimate* as well as the AKK Nano 3 module. The non-ultimate version of the AKK X2 VTX I was able to test a few weeks ago.
What's in the box?
Let's go product by product to not confuse anyone. The AKK FX2 Ultimate* comes in a nice cardboard box, with some pre-cut layers of foam, which protects the components inside on the long way from the China factory to your location. Inside you finde the FX2 VTX, an antenna pigtail, a manual as well as the needed 6-pin-cable adapter for power and video/audio signal.
Except for the different format, the scope of delivery for the AKK X2 Ultimate is identical. The AKK* Nano 3 reached me in an anti-static plastic bag, packed in bubble wrap. Inside you find the small VTX itself, next to a power adapter and the already connected brass antenna.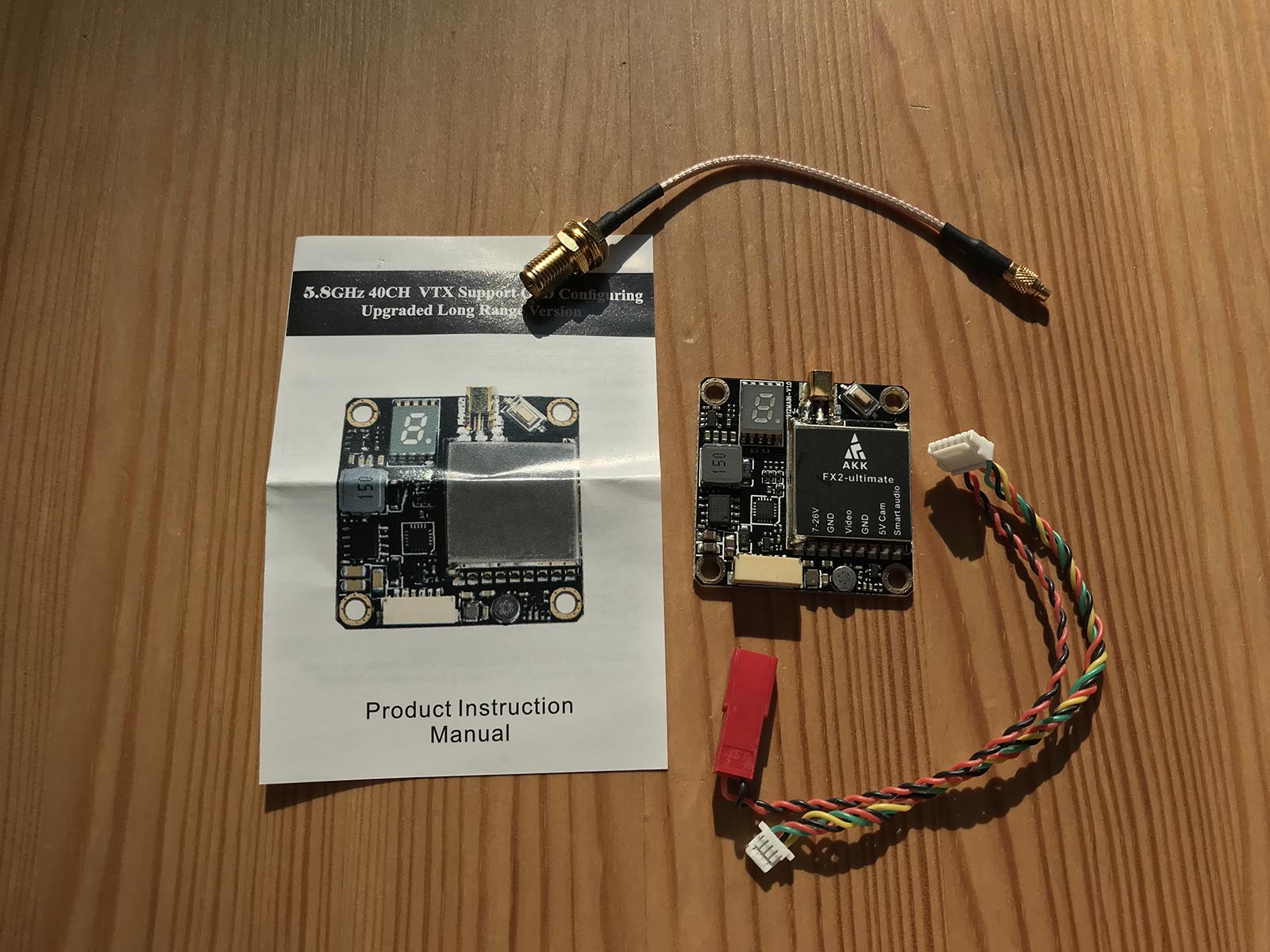 Of course, you also get a small manual with all the important information, how to setup the VTX properly.
Technical Specs
The following table lists additional specs for the FX2 Ultimate, X2 Ultimate and Nano 3 VTXs.
Name
AKK FX2 Ultimate
AKK X2 Ultimate
AKK Nano 3
Voltage Input
7 - 26 V
7 - 26 V
3.2 - 5.5 V
Supported Video Standards
PAL /NTSC
PAL / NTSC
PAL / NTSC
Connector
MMCX (RP-SMA adapter included)
MMCX (RP-SMA adapter included)
IPEX (brass antenna included)
RF
5.8 GHz, 40 channel VTX***
5.8 GHz, 40 channel VTX***
5.8 GHz, 40 channel VTX***
Setup
1 Button Setup
1 Button Setup
1 Button Setup
Weight
9.6 g
6.8 g
2.3 g
Output Power
0.01 mW / 25 mW / 200 mW** / 600 mW** / 1.200 mW**
0.01 mW / 25 mW / 200 mW** / 600 mW** / 1.200 mW**
0.01 mw / 25 mW / 200 mW**
Misc.
Display for channel, band and output power selection,
OSD setup via FC using Smart Audio,
Integrated microphone,
5V voltage supply for camera (max 500 mA)
Display for channel, band and output power selection,
OSD setup via FC using Smart Audio,
Integrated microphone,
5V voltage supply for camera (max 500 mA)
 OSD setup via FC using Smart Audio,
5V voltage supply for camera (max 300 mA)
Dealer
AKK
AKK
Amazon*
***NOT all channels are legal to use within Germany! Check out our FPV frequency guide for details on legal channels, bands and frequencies for FPV applications in Germany.
** NOT LEGAL TO USE IN GERMANY! CAUTION WHEN SETTING UP!
Using it
All three FPV VTXs enable the user to select different output power settings. While the X2 Ultimate and FX2 Ultimate max out at 1.200 mW** the Nano 3* goes up to 200 mW** RF output power. Please keep in mind that 25 mW EIRP is the maximum allowed RF output in Germany on 5.8 GHz.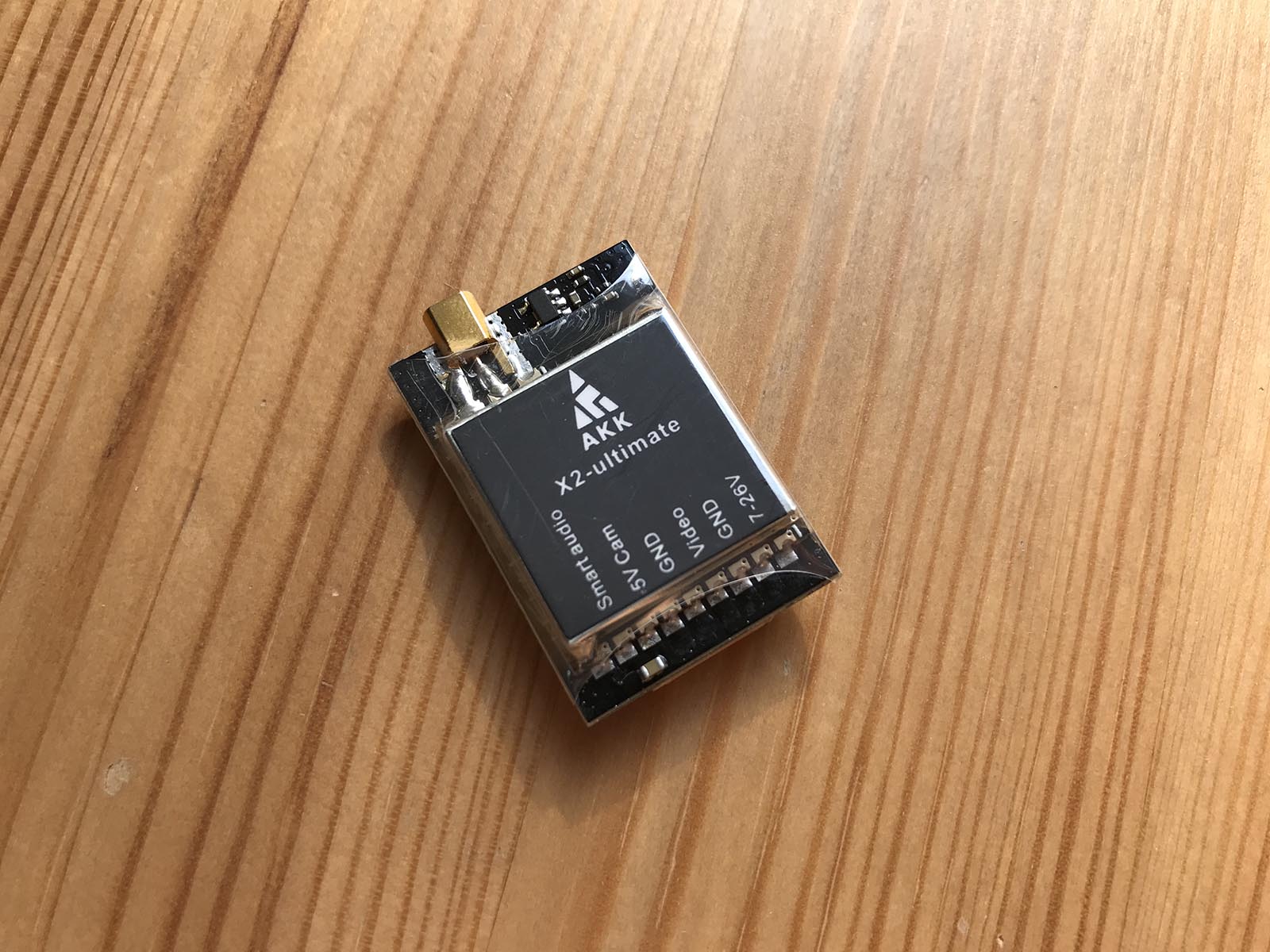 Same goes for the channels and bands: make sure you are allowed to use them where you fly. Most VTXs provide the same standardized 40 channels*** on 5.8 GHz, which is the case for all three reviewed VTXs, as well.
Channel selection is quiet easy on all three models. One push button lets you adapt channel, band and output power. FX2 Ultimate* and X2 Ultimate also feature a one digit display, which helps a lot during configuration.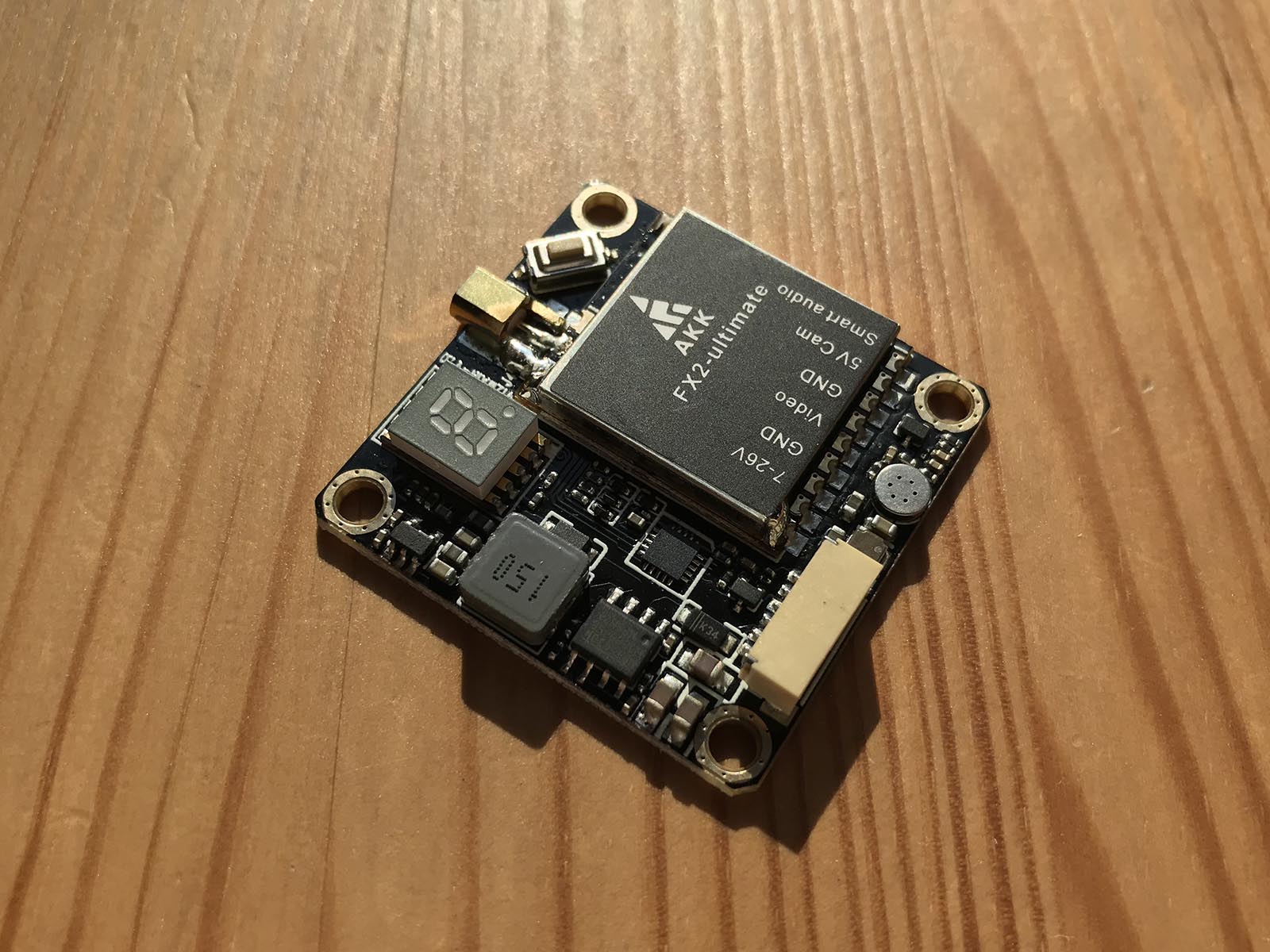 The Nano 3 is limited to a LED for feedback on the current configuration. Settings are saved immediately and are restored after a power loss, of course. I found both setup procedures very reliable and easy to understand. You will need to carry the small band / channel table with you, when you are planning to change your settings on the field, though.
I really like the smart audio technology, which now is supported by all three reviewed VTXs. Using the audio channel, your flight controller can communicated with the VTX* and allows for configuration of the VTX parameters using your radio. Pretty neat, when you have to change your channel setup quickly or regularly.
During use all three VTX get quiet warm, so it might be a good idea to mount them on a place with at least a little airflow to not shorten lifetime unnecessarily. On 25 mW all VTXs* performed as expected. I used a circular-polarized antenna on the FX2 Ultimate and X2 Ultimate and got my usual range at my flying spot.
I also tried different bands / channels to make sure the setup works correctly. I verified the correct setup with the on-screen display of my diversity RX module in my goggles. The AKK Nano 3* is great for park flying. Due to the simple brass antenna range is limited to LOS distance on 25 mW, but for micro quads or slow flyers this is more than sufficient.
Conclusion
Once more, the three FPV products I have received by AKK Technology are of good value. All three VTXs work flawlessly on 25 mW setting, nothing to complain here (due to German law I did not test any higher power output settings). The setup is easy and the overall build quality is great.
I like the fact that the AKK X2 Ultimate* and AKK FX2 Ultimate include a microphone and that all three tested VTXs now support the cool smart audio feature for setup via OSD. Especially racers will love the 36×36 mm design of the new FX2 Ultimate*, which simply lets you add the VTX on top of your flight controller (and ESC stack*).
The PID-Mode setting, which is available one all three models, will lower the RF output to 0.01 mW for near proximity testing, without causing interference for other pilots on the track.
The only less pleasing fact I can report, is the 6 pin connector, which snaps in brutally tight (which is good as the chance of coming loose mid-air is low) but and makes it really hard to disconnect the VTX from the signal cable again.
Anyway, if you are in the game for a new VTX*, you should definitely take a closer look at all these three products – depending on which goal you are pursuing.