Review: AKK Race VTX & AKK FX2 Dominator FPV transmitters
AKK Technology presents the new AKK Race VTX as well as the new AKK FX2 Dominator VTX for long-range FPV applications. This article will take a closer at the two new FPV transmitters. For the first time we are including power measurements.
You are in the game for a new FPV transmitter either to slam it on your race quad or maybe to built a new long-range FPV plane? Then these two AKK transmitters might be just right for you. AKK has provided us with samples of the new AKK Race VTX as well as the monstrous AKK FX2 Dominator VTX, which features a heavy passiv cooling system. We will have a close look at both transmitters.
This review continues our FPV testing series, with the FX2 Ultimate Mini and FX3 Ultimate VTXs tested in late 2018, followed by the AKK Infinite DVR transmitter. For the first time we will include some RF power measurements as more objective data has been requested by some of our readers (we hear you!).
What's in the box?
The new AKK Race VTX is delivered in a small anti-static plastic bag with just the transmitter, a manual and the pigtails connector inside. The lot larger FX2 Dominator transmitter comes in the standard cardboard box. Inside you find the massive VTX including a manual, adapter cables as well as the SMA pigtail* to connect your FPV antenna (read our German article on FPV antennas for more details).
AKK Technology managed to pack everything thoroughly and the built quality of both transmitters is decent.
Technical details
We prepared a short summary table to list all relevant technical data on both transmitters.
Name
AKK Race VTX
AKK FX2 Dominator
Voltage Input
5 V
7 - 26 V
Supported Video Standards
PAL /NTSC
PAL /NTSC
Connector
MMCX (SMA adapter included)
MMCX (SMA adapter included)
Channels
40 channel***
40 channel***
Frequency
5.8 GHz
5.8 GHz
Setup
1 Button Setup, OSD setup via FC using Smart Audio
1 Button Setup, OSD setup via FC using Smart Audio
Weight
3.5 g
5.4 g
Output Power
25 mW / 200 mW**
250 mW** / 500 mW** / 1000 mW** / 2000 mW**
Misc.
LED array for channel, band and output power selection,
OSD setup via FC using , Smart Audio,
Integrated microphone,
5V voltage supply for FPV camera
Single digit display for channel, band and output power selection,
OSD setup via FC using Smart Audio,
Integrated microphone,
5V voltage supply for FPV camera
Price (MSRP)
9.99 USD
36.99 USD
***NOT all channels are legal to use within Germany! Check out our FPV frequency guide for details on legal channels, bands and frequencies for FPV applications in Germany.
** NOT LEGAL TO USE IN GERMANY! CAUTION WHEN SETTING UP!
Using it
In the upcoming paragraph we like to discuss the setup process as well as the actual usage of both transmitters. When you are new to the FPV world, setting up your transmitter correctly can be a little challenging at first. We will walk you through the setup process of both products on that matter.
AKK Race VTX
The Race VTX features a pretty basic layout. AKK* opted for a single sided board layout, which enables the pilot to put the transmitter flat on any given surface. This makes mounting the VTX very easy. There is no housing or shrink wrapping on this transmitter, you literally get the naked PDB. Connections are made via bare wires, which we always favour over connectors. It makes the whole setup easier and saves weight. The voltage supply is limited to 5 V, which doesn't give you a whole lot flexibility.
The upside to this minimalistic design is the omission of a dedicated voltage converter, which brings the total weight of the transmitter down to just 3.5 gram. You still are able to daisy chain your FPV cam with the transmitter, as the Race VTX features a 5V output (max 300 mA) for peripherals. The Race VTX also includes a microphone and is able to use the TBS Smart Audio configuration features via a serial connection to the flight controller. If you are interested in VTX telemetry, you might want to check out our in-depth article on Smart Audio and Tramp (in German).
The setup procedure of the AKK Race VTX is pretty basic and is carried out with the help of one button and three LEDs. First up is channel selection. A single press, changes the channel. There are eight channels on every band. Once you select channel one, the blue LED will stay solid. Every channel change will be confirmed by a single flash of the blue LED.
To select another band, press and hold the button for more than 2 seconds. The red LED will confirm every successful band change. When you select Band A the red LED will stay solid. Power selection is last. You have two choices here: 25 and 200 mW**. To change the output power hold down the button for more than four seconds and release. Green LED will sign 25 mW output, red LED means you are on 200 mW.
AKK FX2 Dominator
The technical specs of the AKK FX2 Dominator transmitter are every long-range freak's wet dream. This massive VTX is advertised to output up to 2000 mW** of RF-power (YES, that is 2W!). We thought about any meaningful application for that much power, but didn't came up with any real scenario :) (despite the fact that this output level is not legal to use in Germany!).
The transmitter comes in 36 x 36 mm form factor with standard 30.5 mm hole distance. It therefore could be stacked with your FC or ESCs, if you wanted to. The FX2 Dominator is equipped whit two massive heat spreaders on top and bottom, which are glued to the PDB with thermally conductive adhesive. AKK* delivers the transmitter with a cable adapter that uses a two pin JST connector* for voltage supply (7 to 26 V input) and 4-pin-connector to connect to your camera / FC. This connector carries 5V output (max 500 mA), Smart Audio signal and video input. Due to it's massive design the weight comes in at about 10 grams without antenna / pigtail.
The setup is pretty similar to the Race VTX, despite the fact that you get a single digit display for feedback. This turns out to be a lot more handy than the small LED array. Short press changes channel (1 to 8), > 2 secs press sets the band (1 to 5) and > 4 secs press will change RF power (1 to 4). Of course, we always would recommend to use Smart Audio configuration mode via OSD, because it is that more convenient!
On the bench
As requested by many readers we decided to produce some more comparable data to include in our future FPV VTX reviews. We therefore expanded our test setup with the new ImmersionRC RF Power Meter V2*, which enables us to do repeatable RF power measurements up to 1.3 W. As the test equipment is calibrated to certain frequencies, all tests have been carried out at 5800 MHz (Band F, Channel 4).
We are aware of the fact that the ImmersionRC RF Power Meter V2 is no professional calibrated RF analyser (which cost 3000+ Euro by the way). It still well give us some estimates on how different VTXs perform. As this is our first run with RF power testings, we included some other VTX into the test run, to establish some benchmarks. Over time the database should give you an overview of different VTX performance.
We also were not able to check on the 2000 mW setting of the FX2 Dominator as the absolutely maximum input power for the measurement tool is 1,3 W EIRP. An attenuator module will help on that issue in the future.
All transmitters have been tested in AVG meter mode, which displays a running average in 20 ms intervals. The VTXs have been running for about 120 seconds connected to a normal antenna to allow some heating of the components before measurements have been carried out. There was no active source of airflow. We also calculated input power by measuring input current as well as voltage.
The following input voltages have been used:
Please understand the following values as rough indicators of performance as we still are tweaking our measurement methodology. NOTE: Tests have been carried out as a HAM radio experiment.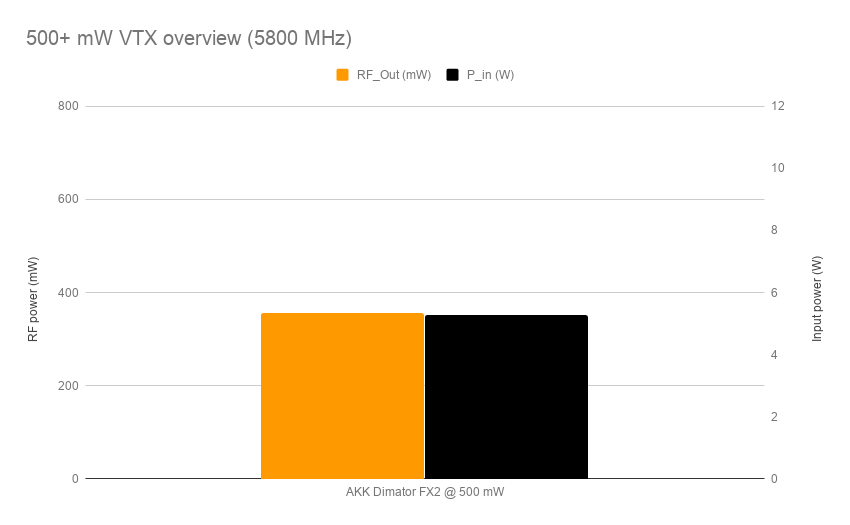 On the field
Due to legal limitations we just have been able to fly the AKK Race VTX on 25 mW output mode. The transmitter was able to emit a clear picture. We used the VTX on our Fossils Stuff Gravity 280 FPV racer (have a look at our built log video!), with no real airflow to the RF module. The range still came out as to be expected, when equipped with TBS Triumph antennas*. The setup process via Smart Audio is quick. Manual setup on the field via one-button-config is nothing you really want to do.
Conclusion
To conclude our short article, let's have a quick look at the pros and cons of both AKK transmitters*. Starting with the AKK Race VTX we really liked the single sided PDB design as well as the small form factor and weight. The MMCX connector makes it easy to adjust the antenna, as you gain some extra flexibility by the pigtail adapter cable*.
The heat emission of the VTX is minimal at 25 mW. When you are running the transmitter in 200 mW mode we would suggest to mount it at a place where airflow can reach the RF components. The setup procedures over the single button is okay for bench testing, but not very hand for real operation and changing settings on the flying field. You should use the VTX telemetry features, if this is a possible option on your setup. Otherwise the AKK Race VTX* performs solid for the small price tag of 9.99 US-$.
Pro
Tiny and very light
Pigtail allows flexible applicatiomn
Single layer PDB for simple installation
Decent RF performance
Very fair pricing
Comfortable UART configuration
Contra
Output below advertised values, still solid performance out on the track
The FX2 Dominator* is a well-made VTX that looks extremely tough with all its heat spreaders (especially the large bottom one). The FX2 Dominator clearly is meant for pilots trying to break the next long distance record and not for the typical FPV pilot, who is trying out its models in the neighbour hood park.
This VTX is a power-house and should be used with caution to surrounding radio equipment and devices. The setup process via the single digit display is decent, still Smart Audio setup is quicker. As the VTX tends to heat up really quick, who under all circumstances should provide some kind of airflow. Otherwise the RF output will drop rather quickly. The price of 36.99 USD is one of the more expensive AKK transmitters*, which is still cheap considering the maximum RF power the AKK FX2 Dominator can output.
Pro
Very solid build quality
Superb cooling solution
Still pretty compact for possible RF out
No fan design
UART confinguration
Contra
Needs airflow to perform well
Output below advertised values (tested without active airflow)
Bleibt in Kontakt!
Wenn ihr über die neuesten Drohnennachrichten, Leaks, Gerüchte, Guides und Testberichte auf dem Laufenden bleiben möchtet, dann folgt uns gerne auf Twitter, YouTube, Facebook oder Instagram.
Auf der Suche nach eurer nächsten Drohne von Autel*, DJI*, Parrot*, Yuneec* oder einem anderen Modell*? Wenn ihr unsere Partnerlinks (*) beim Drohnen-Shoppen verwendet, erhalten wir eine kleine Provision, für euch ändert sich aber nichts am Preis. Vielen Dank, dass ihr dabei helft Drone-Zone.de wachsen zu lassen!
Außerdem freuen wir uns natürlich über eure Nachrichten oder Fragen in den Kommentaren!
Hinweis:
Mit Sternchen (*) markierte Links sind Affiliate-Links / Partnerlinks. Mit einem Kauf über diesen Link erhalten wir als Seitenbetreiber eine Verkaufsprovision. So kannst du Drone-Zone.de ganz einfach unterstützen. Bitte beachtet, dass es sich bei Drone-Zone um eine reine Website und keinen Online-Shop handelt. Ihr könnt über unsere Seite keine Kaufverträge über die dargestellten Artikel abschließen und auch keine persönliche Beratung hierzu in Anspruch nehmen. Mehr Informationen dazu
findest du hier
.