Review: AKK Infinite DVR VTX FPV transmitter
In this review we are looking a the brand new Infinite DVR VTX video transmitter for FPV use. This new product comes in stackable 30.5 mm whole distance format and is equipped with an integrated DVR for video recording.
AKK* is moving on in big steps with regards to their FPV VTX product portfolio. Coming from rather simple VTX products, the latest additions feature a lot of handy options that make the average drone pilot's life a lot easier.
We are talking about things like smart audio setup via OSD (see our AKK FX2 Ultimate review) or clever one button setup sequences here.
The newest addition is the exciting AKK Infinite DVR VTX, which includes a full digital video recorder solution to record the video feed of your FPV cam directly on board your racing quad.
Overview
This is usually beneficial to analog video quality as the weakest member of the transmission sequence (namely the radio link) is cut out of the equation, when compared to a DVR solutions integrated in your FPV goggles*. Of course, this ground station recording still gives some additional value in situations of a crash and to help locating and recovering the aircraft.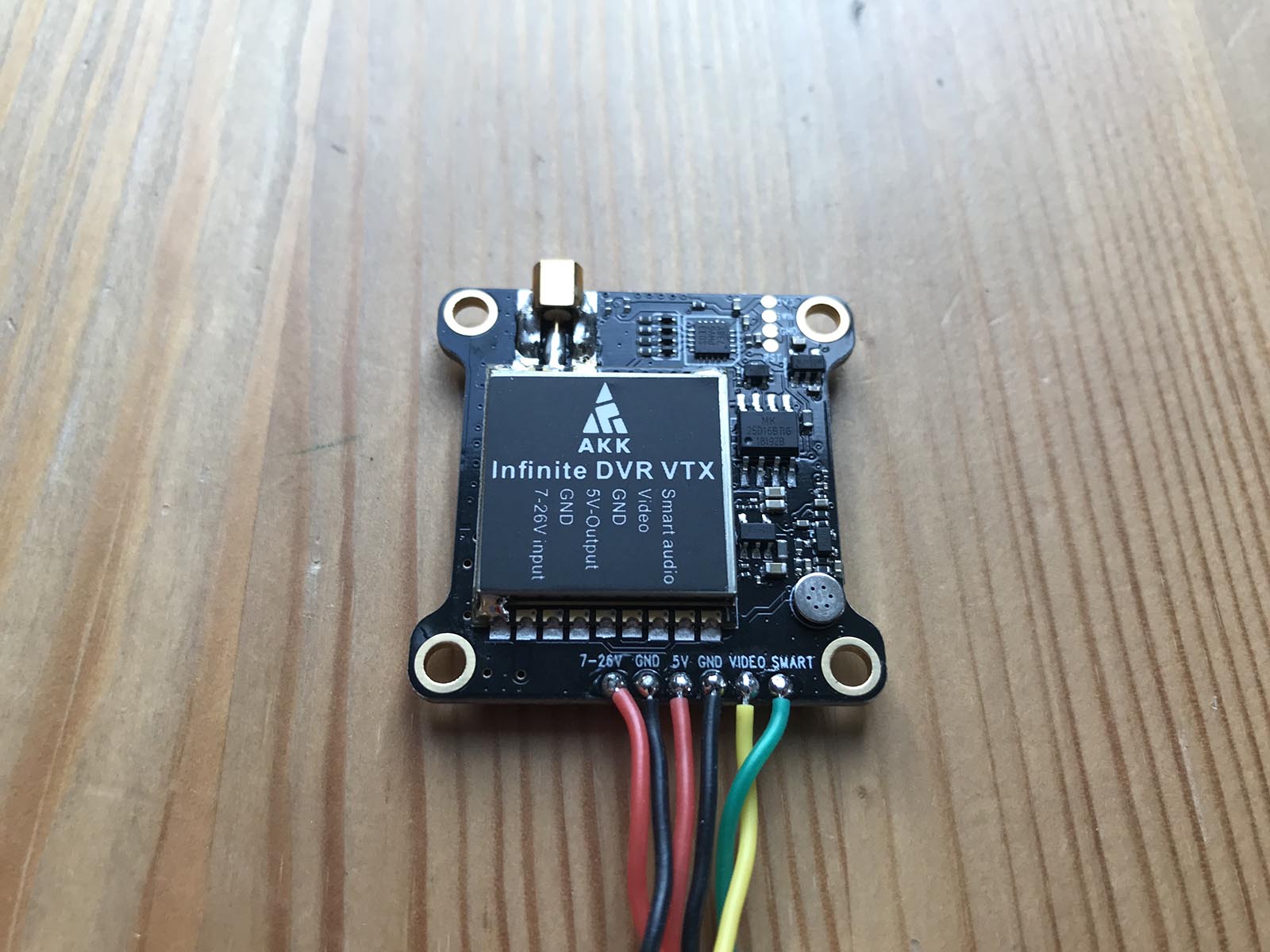 What's in the box?
The new AKK* Infinite DVR VTX comes in a very durable cardboard box, which made it in very good shape to our test bench in Germany. Inside the box you will find the Infinity DVR VTX sitting in some soft foam, waiting to be put to good use. Furthermore, you are supply with a antenna pigtail adapter* that converts the MMCX connector on the VTX to the standard SMA connector we use for our antenna connections in FPV flight.
On top there is a small paper manaual included, which briefly guides through the one button setup features. You should put this in your flight pack right away, if you are not planning to use the smart audio setup feature. It will come in handy for sure, when you have to switch channels, bands or even transmitting power out on the filed.
That's all you get. Meaning you have to obtain a decent FPV antenna* by yourself, leaving you with a vast choice of products (but that's something for another day).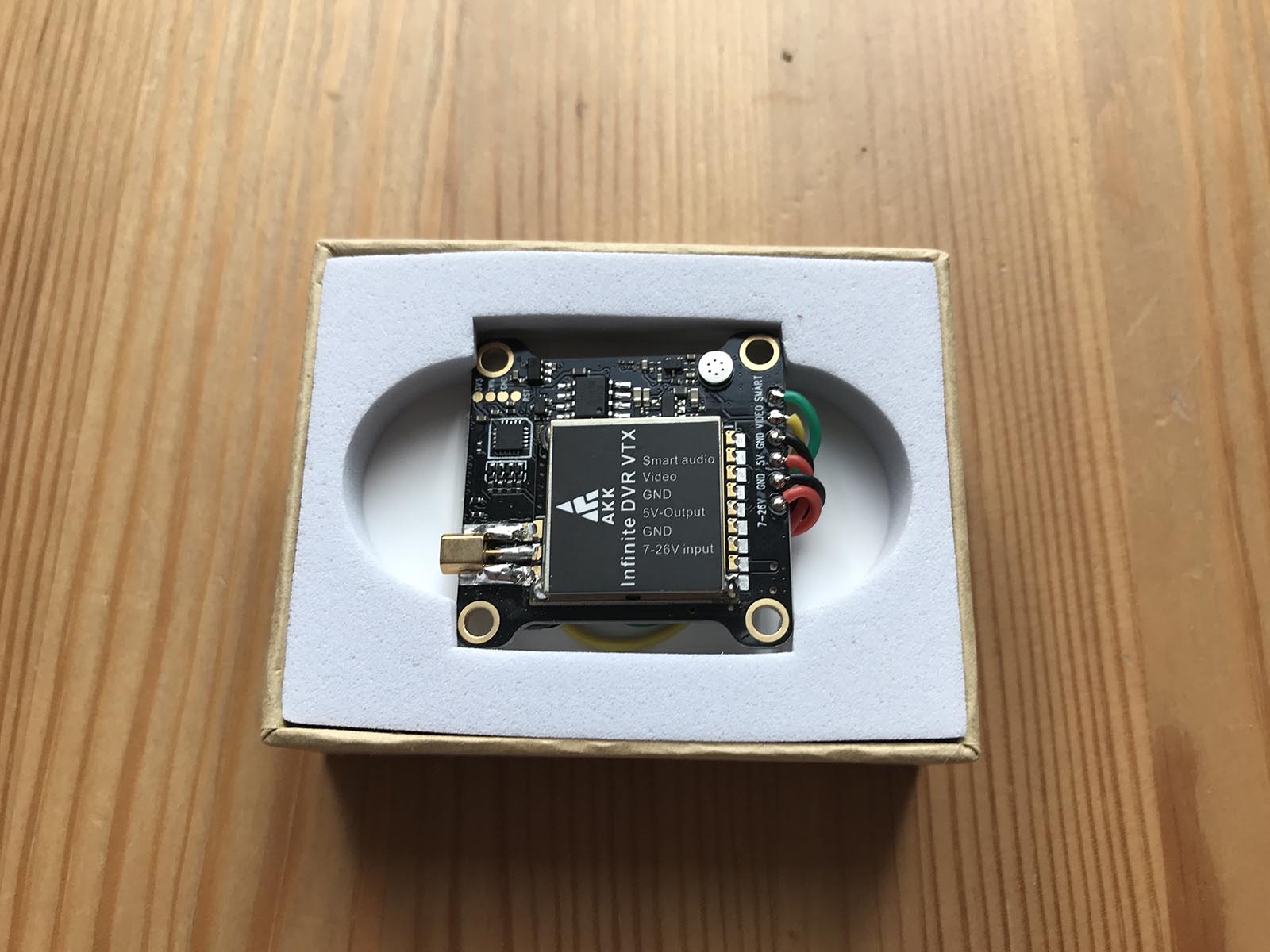 Technical Specs
The following tables summarises the key technical details of the new AKK Infinite DVR VTX.
Name
AKK Infinite DVR VTX
Voltage Input
7 - 26 V
Supported Video Standards
PAL /NTSC
Connector
MMCX (RP-SMA adapter included)
Channels
37 channel***
Frequency
5.8 GHz
Setup
1 Button Setup, OSD setup via FC using Smart Audio
Weight
8.8 g
Output Power
0.01 mW / 25 mW / 200 mW** / 600 mW** / 1.000 mW**
Misc.
LED array for channel, band and output power selection,
OSD setup via FC using Smart Audio,
Integrated microphone,
5V voltage supply for camera, integrated microSD card slot for DVR functionality
Price
Check on Amazon*
***NOT all channels are legal to use within Germany! Check out our FPV frequency guide for details on legal channels, bands and frequencies for FPV applications in Germany.
** NOT LEGAL TO USE IN GERMANY! CAUTION WHEN SETTING UP!
Using the AKK Infinite DVR
Mounting the new AKK Infinite DVR VTX is pretty easy due to the standard 36 x 36 mm form factor. The mounting holes also are spaced with standard 30.5 mm, making the AKK Infinite DVR VTX* an easy add-on to existing FC / ESC stacks. The pigtail adapter* gives you good flexibility in terms of antenna placement.
You will need another mounting point for your antenna though, as the provided pigtail cables is rather flexible and will not stay in a certain position on its own. The MMCX connector saves some spaces and seems to make a reliable connections, just make sure to not load the pigtail with any pulling forces.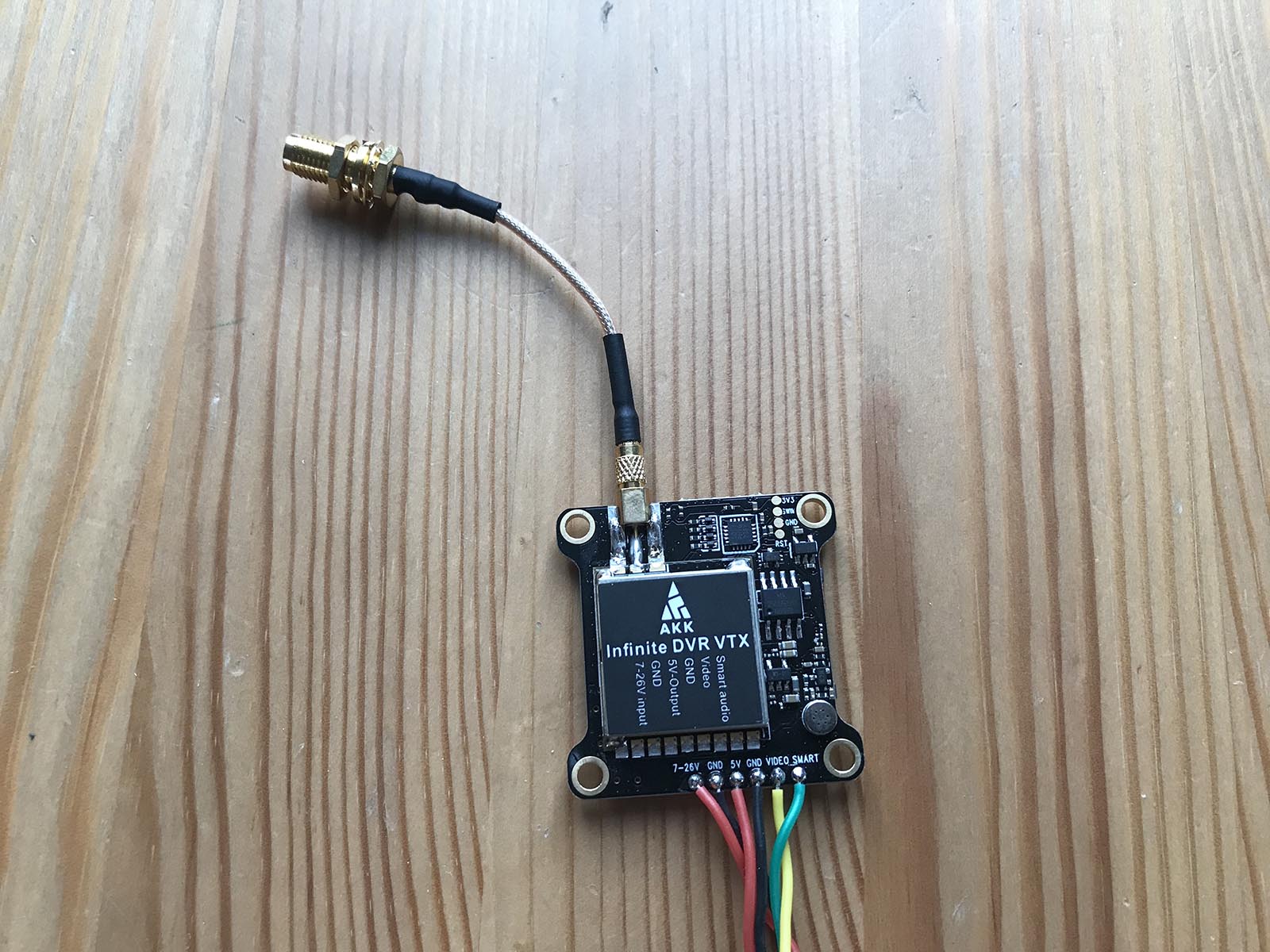 Camera, voltage input and smart audio are connected via blank wires, which also could be easily desoldered and replaced, if needed. That's something we have missed on so many other VTXs in the past, which utilised proprietary connectors that made them hard to fix.
The setup via one button setup is easy as well. The AKK Infinite DVR has two separate LED arrays. Two red, and five blue LEDs (plus another singled red LED for the DVR function, but let's ignore this one for the moment).
You also find to push buttons, again on for setup the other one for recording. Pushing the setup button once will chance through the channels. The first red LED will constantly light on channel 1 only, the second LED will show you that you have switched to the next transmission channel.
Holding down the button for 2 seconds enters the band configuration. Now the five blue LEDs will represent the different bands (A, B, E, F and Race band). To change the transmission power you repeat this procedure, but holding down the button 4 seconds, before using it to switch through the five power modes. Make sure to always obey the law regarding maximum radio power and frequency at your location!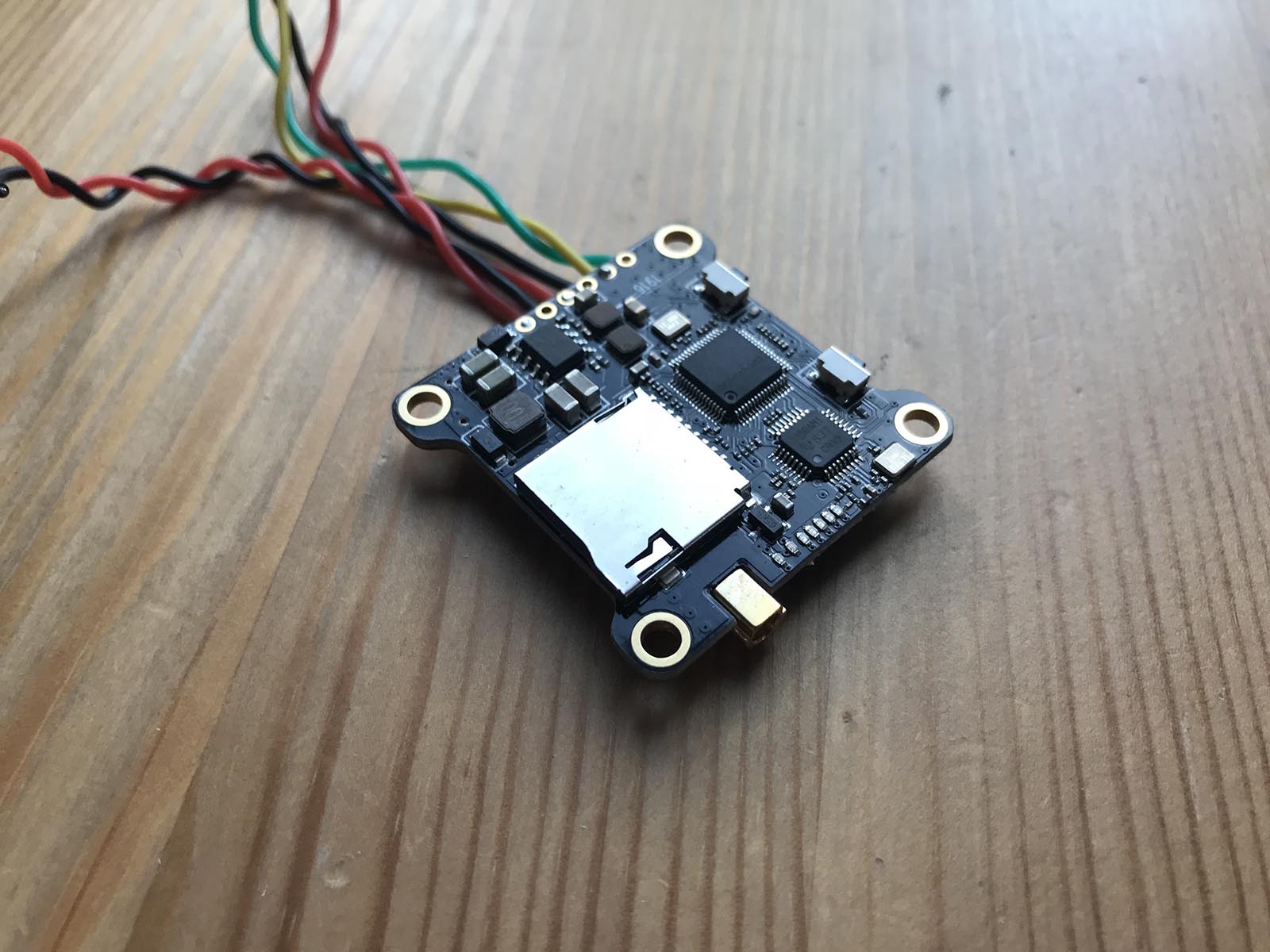 The recording feature is easiest to use of all. Plugin a clean formatted microSD card (max 32 GB capacity) and turn on the Infinite DVR VTX. The card will be initially prepared and can be used for onboard video recording afterwards. To start / pause the recording just press the second button on the side of the transmitter.
The dedicated third red LED will light up to signal recording in progress. The DVR works in rolling recording mode. This means that after a maximum of 5 minutes the recording is saved as an individual file and the recording continues in a new file. We could not find out how the DVR acts, if the card is full, yet. (Especially if it will start overwriting the oldest file or just stop recording). Recording are created at 640×480 resolution with 30 frames per second, by the way.
In-flight the VTX presented a decent range using the legal radio settings for Germany. You can expect typical distances of clear pictures up to 500 m on 25 mW output power with a directional antenna* on the receiver end.
For freestyle and park flying this is decent. Of course, the VTX has a lot more range potential when operating at 1000 mW, which could not be tested due to legal limitations. Check out our FPV frequency guide for details on legal channels, bands and frequencies for FPV applications in Germany.
Conclusion
The new Infinite DVR transmitter form AKK* is a nice addition to the already sophisticated product lineup of FPV VTXs. The stackable format makes it really easy to mount the new DVR VTX on your racing quad. The included pigtail adapter* gives you freedom of antenna placement.
The over all quality of the product can be described as very good. The setup process via one button sequence is easy, as the included LEDs provide good feedback on what has happened. Pilots tired of pushing buttons on the VTX can go ahead and use the integrated smart audio feature, which provides VTX telemetry data directly to your flight controller*, including OSD* setup.
The integrated DVR recording feature is awesome! Quality of the videos is good and the recorder is really easy to use out on the field. For a current price of around 25 € the AKK Infinite DVR VTX* definitely is worth a closer look, if you are in the game for a new FPV transmitter!
Bleibt in Kontakt!
Wenn ihr über die neuesten Drohnennachrichten, Leaks, Gerüchte, Guides und Testberichte auf dem Laufenden bleiben möchtet, dann folgt uns gerne auf Twitter, YouTube, Facebook oder Instagram.
Auf der Suche nach eurer nächsten Drohne von Autel*, DJI*, Parrot*, Yuneec* oder einem anderen Modell*? Wenn ihr unsere Partnerlinks (*) beim Drohnen-Shoppen verwendet, erhalten wir eine kleine Provision, für euch ändert sich aber nichts am Preis. Vielen Dank, dass ihr dabei helft Drone-Zone.de wachsen zu lassen!
Außerdem freuen wir uns natürlich über eure Nachrichten oder Fragen in den Kommentaren!
Hinweis:
Mit Sternchen (*) markierte Links sind Affiliate-Links / Partnerlinks. Mit einem Kauf über diesen Link erhalten wir als Seitenbetreiber eine Verkaufsprovision. So kannst du Drone-Zone.de ganz einfach unterstützen. Bitte beachtet, dass es sich bei Drone-Zone um eine reine Website und keinen Online-Shop handelt. Ihr könnt über unsere Seite keine Kaufverträge über die dargestellten Artikel abschließen und auch keine persönliche Beratung hierzu in Anspruch nehmen. Mehr Informationen dazu
findest du hier
.